Isaac Allen & Batya MacAdam-Somer, violin
Alex Greenbaum, cello
Alison Luedecke, harpsichord
Mary Ruth Miller, Soprano
---
Today's Program
Arcangelo Corelli (1653 – 1713)
Sonata in G Major, Op. 2, No. 12
Ciacona
Georg Frideric Handel (1685 – 1759)
Armida abbandonta
    Dietro l'orme fugaci
    Ah! crudele e pur ten vai
    Per te mi struggo
    O voi dell'incostante e procelloso
    Venti, fermate
    Ma che parlo, che dico?
    In tanti affanni miei assistimi almen
Domenico Gallo (1730 – c. 1768)
Sonata in G Major
Moderato
Andantino
Presto
INTERMISSION
Barbara Strozzi (1619 – 1677)
Lagrime mie
Domenico Gabrielli (1651 or 1659 – 1690)
Ricercar No. 3  in D Major for solo cello
Alessandro Scarlatti (1660 – 1725)
Correa nel seno amato
Sinfonia – Balletto
Recitativo: Correa nel seno amato
Aria: Ombre opacho
---
Texts
Handel – Armida abbandonata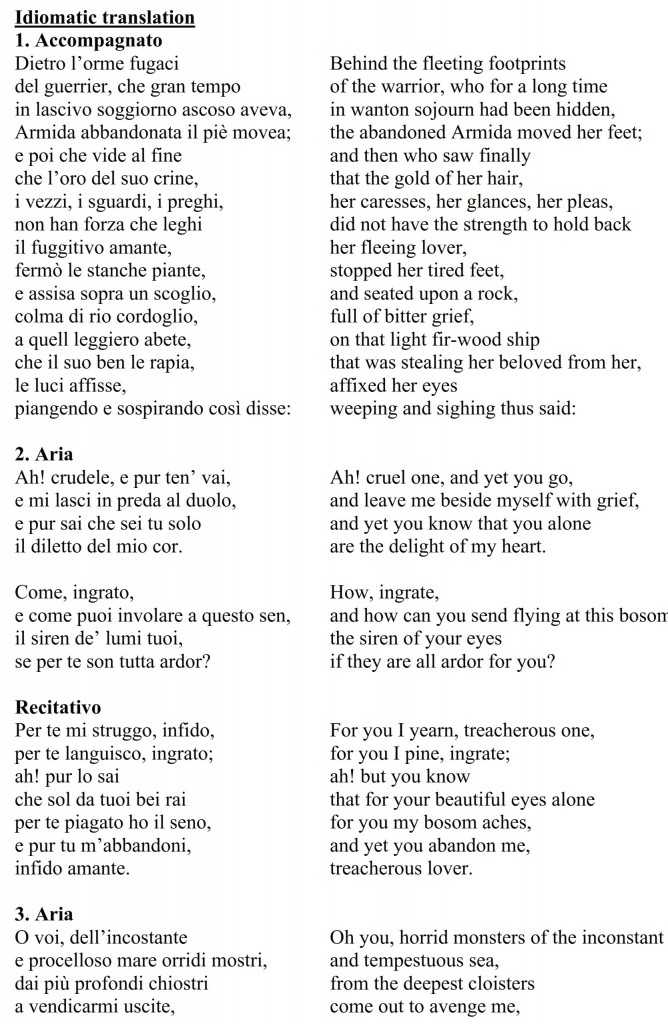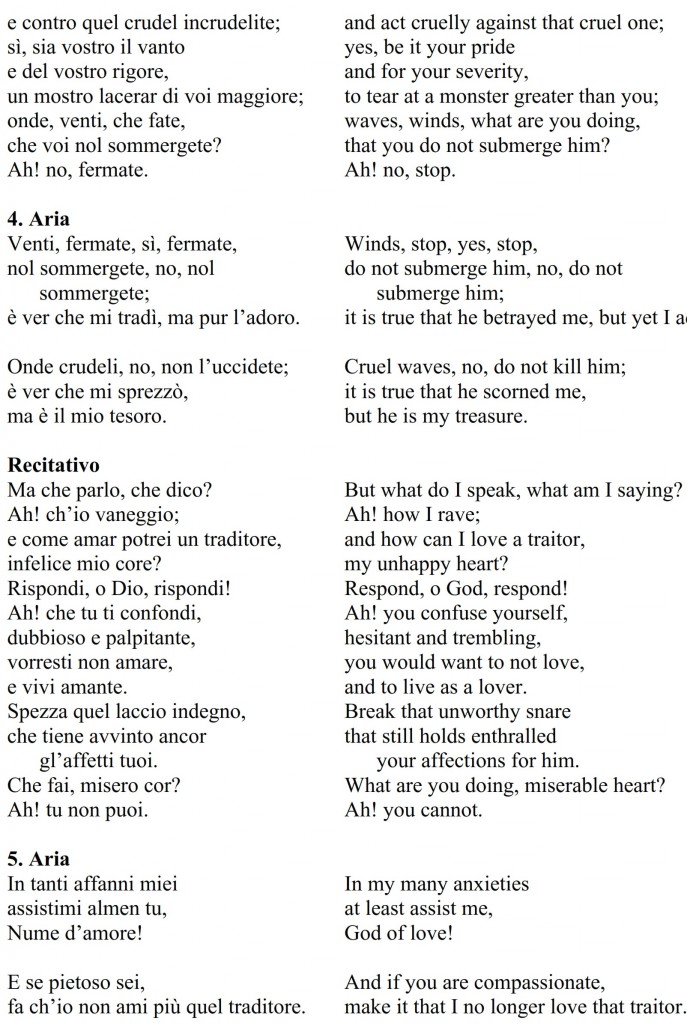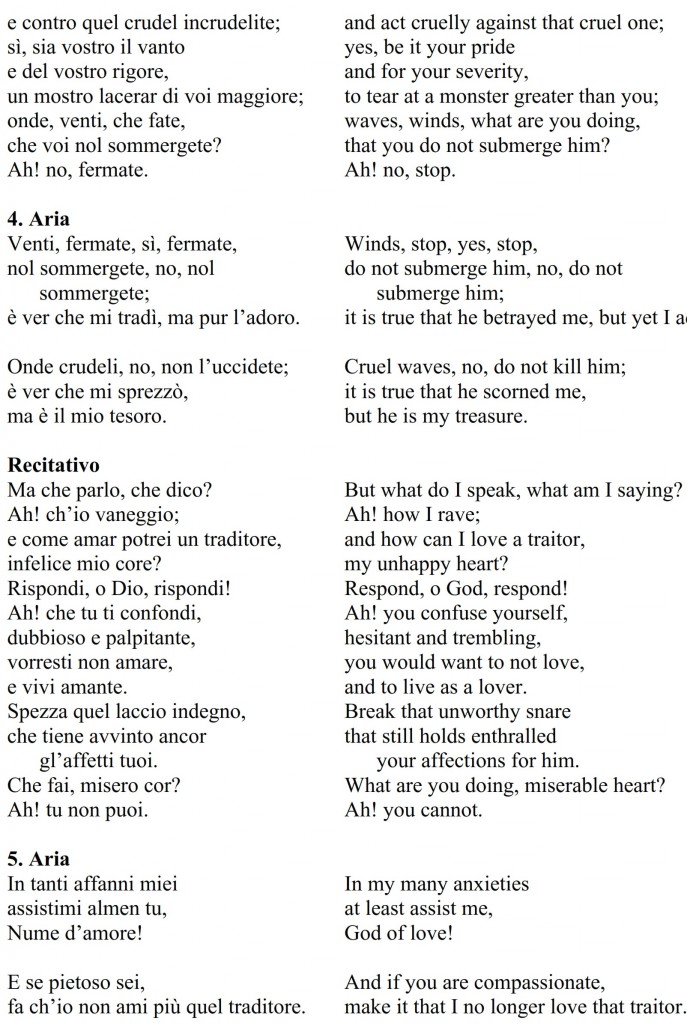 Scarlatti — Correa nel seno amato
RECITATIVO
Correa nel seno amato ver l'occidente frettoloso il sole, e con fiamme brillanti il suo carro stellato, già rivolgeva al mare il pigro Arturo, e la notte serena l'ombre fugando a fiaccole di stelle mostravasi a mortal tra le più belle. 
Rosseggiante nel viso, sorgea tutta ridente dal letto pastoral la bianca Dea, e con raggio lucente nelle porpore sue mostrava Amore quante fiamme ascondea per un pastore. Ed era il tempo appunto che nel grembo dei fiori 
Ringiovenisce l'anno per le gioie dei cori, quando il vago Daliso posando il fianco afflitto ai piè d'un sasso dal di cui mezzo inciso mormorando scorrea fontana algente, sfogava i suoi martiri in lagrime e sospiri, solo fra muti orrori mentre a tutti s'asconde pianti e sospiri, pianti e sospiri, confondea con l'onde. E l'umidette guancie di perle lagrimose che dal cor distillava il suo dolore tergea tutto pietà, tergea tutto pietà spietato Amore. Stanche alfin le sue membra Dal lungo raggirarsi in seno all'erbe, matire sol d'amore, fissando i lumi al cielo, Così con l'aure e'l vento Sfogava singhiozzando Il suo tormento. 
The sun hastily ran towards the West to the beloved bosom, and lazily, Arturo* had already set to the ocean his starry chariot with bright flames, and the quiet night, chasing away the shadows with torches made of stars, showed itself to be amongst the most beautiful ever seen.
Aflame in her countenance, the pale Goddess rose all smiles from the pastoral bed, and with a shining beam, Love showed how many flames she hid for a shepherd in her purple robes.
And indeed it was the time in which the year becomes young again in the bosom of flowers, for the joy of all hearts, when the handsome Daliso, in sorrow, leaning on his side at the foot of a rock, whence, from its cleft midst a cold spring flowed murmuring, vented his suffering with tears and sighs. Alone, amidst silent ravines, while hiding from everyone, he mixed his tears and sighs with the waves. Cruel Love, filled with mercy, wiped from his wet cheeks the tears that his pain distilled from the heart. At last, his limbs tired from his long meandering among the grass, his torment coming from love alone, fixing his eyes to the heavens, sighing, he vented his torment to the sky and the wind.
ARIA
Ombre opache che il chiarore Della luce m'ascondete Se pur sete del dolore Fide amiche, fide amiche, Or che il desio, deh, piangete Al pianto mio.
Dull shadows, ye who hide the brightness of light from me, if you are faithful friends of suffering, now that I desire so, alas! cry along with my crying.
---
Today's Performers
San Diego Baroque is a collaborative ensemble made up of some of the area's finest early music specialists. Each artist is an accomplished soloist in their own right and has performed extensively in San Diego and worldwide, with groups such as the Academy of Ancient Music, Mainly Mozart, Bach Collegium San Diego, The Knights and the Hausmann Quartet. The ensemble was created because of the members' enthusiasm and expertise in Baroque music, and the group has collaborated with local choirs, actors, and presented concerts and visited schools throughout San Diego County. They present Bach's Lunch, a monthly midday concert series at St. James by-the-Sea in La Jolla, and welcome further collaborations and musical explorations in the future.
Visit sdbaroque.com for more information. Their core membership consists of violinists Pierre Joubert and Isaac Allen, violist Andrew Waid, cellist Alex Greenbaum and harpsichordist/organist Alison Luedecke.
Praised by the Boston Musical Intelligencer for her "clear soprano" and "tasteful dramatic interpretation", MaryRuth Miller has appeared throughout North America as a concert soloist and choral artist. Recent and upcoming performance highlights include solo features with Boston's Handel and Haydn Society, Bach Akademie Charlotte, Upper Valley Baroque, Pegasus Early Music, San Diego Baroque, the Charlotte Master Chorale, the Baldwin Wallace Bach Festival, and the Oregon Bach Festival.
An equally passionate choral singer, MaryRuth sings regularly with the Handel and Haydn Society Chorus, New York City's Clarion Choir, and the Oregon Bach Festival Chorus, and made her debut with the Santa Fe Desert Chorale in 2022. She is an alumnus of the VOCES8 US Scholars Program and continues to collaborate with VOCES8 Foundation projects across the United States. In 2022, she could be seen singing backup for Ellie Goulding on the internationally televised Earthshot Prize award ceremony.
Originally from West Columbia, South Carolina, MaryRuth holds a Bachelor of Music Education degree from Winthrop University and a Master of Historical Performance degree from Boston University. She lives in San Diego, California.
---
Volunteer as a Theater Usher