Jeeyoon Kim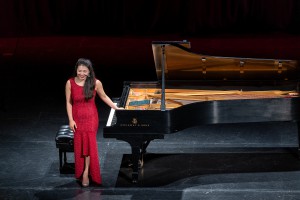 Award-winning classical pianist Jeeyoon Kim has delighted audiences across the U.S. and around the world with her sparkling combination of sensitive artistry, broad emotional range, impeccable technique, and uniquely engaging and innovative concert experiences.
From the start of her career, beginning with her celebrated 2016 debut album, 10 More Minutes, Jeeyoon has thrilled classical music fans with her artful performances and connected with attendees who are decidedly younger than average by engaging in a conversation with her audience from onstage. Her second album and concert project, Over. Above. Beyond., further stretched the mold for classical piano performances by collaborating with New York-based artist Moonsub Shin to deliver a multi-media experience that was also captured in an award-winning music video. ​
Jeeyoon began studying the piano when she was just four years old, and her love of music and the piano propelled her through her undergraduate studies in piano performance in her native Korea. After moving to the U.S., she graduated with distinction with a Master's Degree and a Doctorate Degree in Piano Performance with a full scholarship from Indiana University's renowned Jacob School of Music.
 In pursuit of an even deeper understanding of music and refining her ability to share it with others, she earned another Master's Degree in music education, Piano Pedagogy, with a full scholarship from Butler University, where she also simultaneously served as a faculty member. A testament to Jeeyoon's abilities as an educator: she was recognized with the 'Top Music Teacher Award' from Steinway and Sons for 3 years in a row from 2016 to 2018.
​Today, between performances at venues like Carnegie Hall, the Chamber Music Society in San Francisco, and the Stradivari Society in Chicago, Jeeyoon remains focused on finding new ways to connect with audiences and bring a fresh perspective to the magic of classical piano music. She recently launched a fast-growing new podcast dedicated to helping people of all musical tastes and backgrounds discover the beauty of classical music. Journey through Classical Piano delivers 15-minute episodes that feature concert-like musical experiences and in-depth exploration of classical compositions, hosted by Jeeyoon.
---
Today's Program
Nicolay Medtner (1880 – 1951):             Forgotten Melodies, Op.38, No. 8
Domenico Scarlatti (1685 – 1757):         Sonata in E major, K.380
.                                                                    Sonata in D minor, K.1 (L. 366)
G. F. Handel (1685 – 1759):                    Chaconne in G major, HWV 435
Sergei Rachmaninoff (1873 – 1943):    Vocalise 
.                                                                   Etude in E-flat minor, Op. 39, No. 5
Claude Debussy (1862 – 1915):             Reflets dans l'eau (Reflections in the water)
Debussy:                                                   Doctor Gradus ad Parnassum (Steps to Parnassus)
Nikolai Kapustin (1937 – 2020):          Concert Etude, Op. 40, No. 6, "Pastoral"
 INTERMISSION
Frédéric Chopin (1810 – 1849):           Andante spianato et grande polonaise brillante in E-flat major, Op. 22
---