Mozart + Violin
Date

Saturday, November 23, 2019

Time

7:30 p.m.

Address

Gershwin Performing Arts Center
Murrieta Mesa High School
24801 Monroe Ave
Murrieta, CA 92562


Tel.

800.595.4TIX (4849)

Tickets
Writing of Annelle Gregory's recent performance at Carnegie Hall, New York Concert Review said "[Her] performance had boldness and panache … a touch of inspiration … brilliant." California Chamber Orchestra audiences have long admired Annelle's playing; she's appeared here numerous times, both with the orchestra and in recital at The Merc.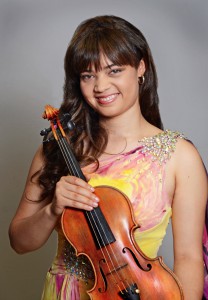 For this concert, Annelle has chosen Mozart's Violin Concerto No. 1, most likely written in 1773. To round out the program, Artistic Director and Conductor Dana Zimbric has selected Haydn's Symphony No. 102  in B Flat Major (one of his London symphonies), as well as Anna Amalia's Overture to her opera Erwin and Elmire, premiered in 1776.
Amalia             Overture to Erwin and Elmire  (5 minutes)
Haydn              Symphony No. 102 in B Flat Major (24 minutes)
Mozart             Violin Concerto No. 1 in B Flat Major, K. 207 (21 minutes)
.                         Annelle Gregory, violin soloist
Tickets and details available mid-July.