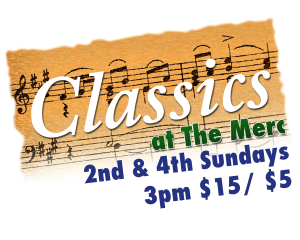 Details.

Danny Holt
Description
Join us in The Merc on the 2nd and 4th Sundays of each month for chamber performances by the region's best professional musicians. The intimate setting of The Merc allows the audience and musicians to interact with each other so you can learn about the musicians, their instruments, their careers, and the music they perform.
A great classical experience for a great price!
Featuring
Danny Holt, Piano
Classics at the Merc presents presents Danny Holt in a program of "Eclectic Miniatures" featuring surprising juxtapositions from the 19th, 20th, and 21st centuries: from Beethoven, Chopin, and Brahms to Scriabin, Liadov, Kabalevsky, Nancarrow, and more.