Saturday, December 3, 2022, 7:30 p.m.
Gershwin Performing Arts Center | Murrieta Mesa High School
Tonight's Program
Aaron Copland (1900 – 1990)
Music for Movies
New England Countryside (from the documentary film The City, 1939)
Barley Wagons (from the Hal Roach production of John Steinbeck's Of Mice and Men, 1939)
Sunday Traffic (from The City)
Grover's Corners (from the Sol Lesser production of Thornton Wilder's Our Town, 1940)
Threshing Machines (from Of Mice and Men)
Wolfgang Amadeus Mozart (1756 – 1791)
Concerto for Flute and Harp in C Major, K. 299
Allegro
Andantino
Rondeau – Allegro
Elena Yarritu, flute
Elena Mashkovtseva, harp
INTERMISSION
Pietro Mascagni (1863 – 1945)
Intermezzo from Cavalleria Rusticana
Darius Milhaud (1892 – 1974)
Le Boeuf sur le toit
Thanks to the Murrieta Valley Unified School District for their support of this concert.
Concession sales this evening benefit the Murrieta Educational Foundation for the Arts.
---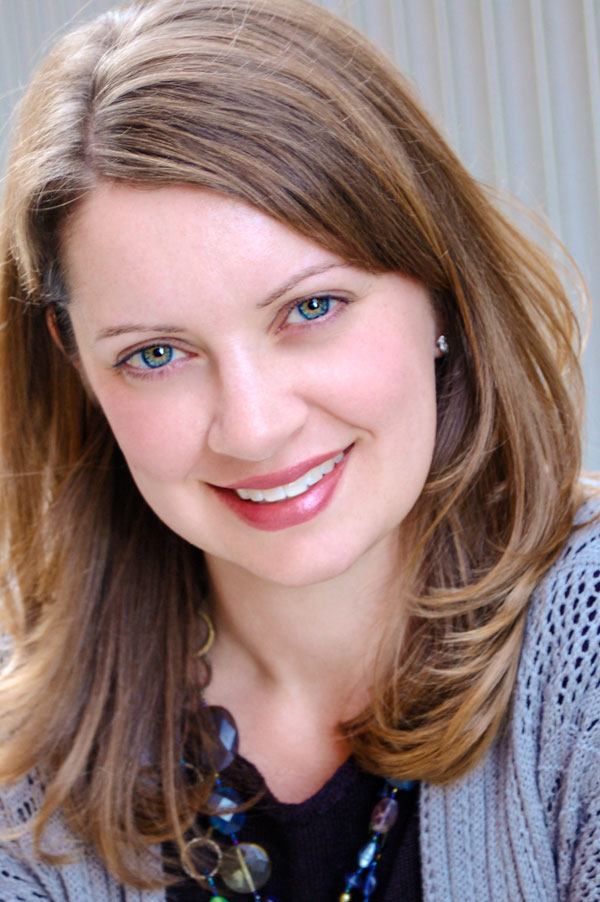 Dana Zimbric is marking her 13th season as Artistic Director and Conductor of the California Chamber Orchestra.
In addition to her work with us, she is Music Director of the Classics Philharmonic Orchestra, which performs educational programs for San Diego area students, and recently made her conducting debut with the San Diego Symphony.
Dana's past conducting experience includes positions with the San Diego Youth Symphony, Avante Chamber Orchestra, Orchestra Nova San Diego, and the University of Wisconsin Chamber and Symphony Orchestras.
An accomplished clarinetist, Dana holds a Bachelor of Music in Clarinet Performance and a Master of Music in Orchestral Conducting from the University of Wisconsin. She lives in San Diego with her husband and two young daughters.
---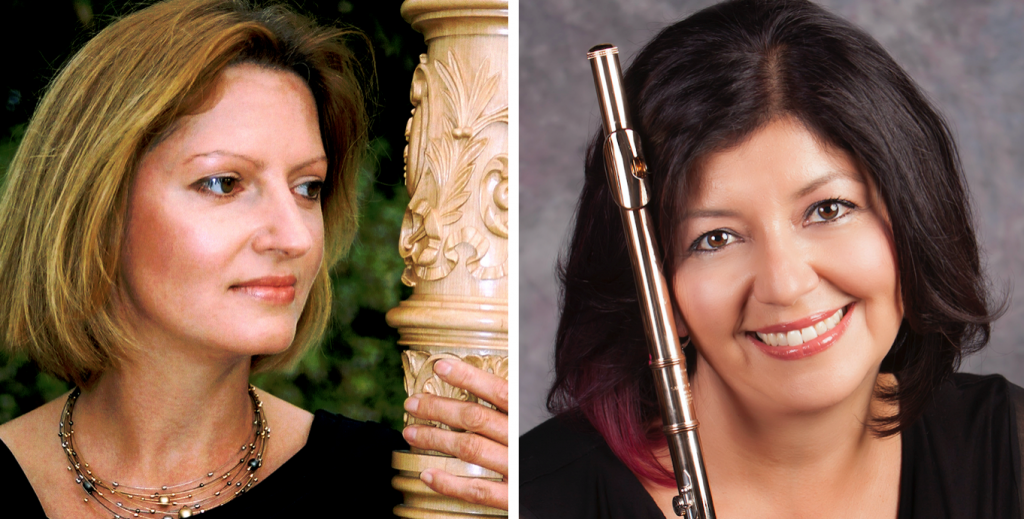 Russian Harpist Elena Mashkovtseva is known for her impeccable technique, grace and elegance. She is a soloist, chamber musician and dedicated teacher. Ms. Mashkovtseva is a graduate of the Moscow Tchaikovsky Conservatory, where she studied with the celebrated harpist Vera Dulova.She was awarded First Prize at the International Competition in Moscow. After graduating, Ms. Mashkovtseva held the principal harp position with the Moscow Philharmonic Orchestra.
Since leaving Moscow, she has appeared with the Orquesta de Baja California, Orquesta de Bellas Artes, Orquesta Filarmónica de la UNAM, St. Petersburg Mariinsky Theater Orchestra under Valery Gergiev, and the Chamber Orchestra Kremlin under Misha Rachlevsky. Locally, Ms. Mashkovsteva has appeared with the San Diego Chamber Orchestra, Orchestra Nova, San Diego Symphony, San Diego Opera, and the Hutchins Consort. As a chamber musician, she appears regularly with Camarada, and DUO ELENA with flutist Elena Yarritu.
Ms. Mashkovtseva is Professor of Harp at San Diego State University, and has her own private studio in San Diego. Her students have won many local and national competitions, and have gone on to study at major colleges/conservatories here in the U.S. and abroad. Her debut CD Song of the Birds, named after the Catalan folk song performed by cellist Pablo Casals at his United Nations Peace Prize ceremony in 1971, highlights music by Tchaikowsky, Glinka, Prokofiev, Handel and Liszt. Ms. Mashkovtseva currently serves as Vice-President of the San Diego Harp Society and is a sought-after judge for national competitions.
Flutist Elena Yarritu enjoys an active career as a soloist, chamber musician, conductor, and teacher.  She has earned a MM degree from Yale University School of Music, a DMA from Stony Brook University, and has studied with many distinguished flutists in the U.S. and abroad. She performs principal flute in the La Jolla Symphony & Chorus and records on the MSR Classics Label. Her performance with pianist Gabriel Sanchez on her debut CD Scree has been described as "fearsome and adventurous" by Fanfare Magazine while being "wholesome and jubilantly virtuosic" (American Record Guide). Her second CD, Emigrantes, released in 2015 features arrangements of music by Astor Piazzolla and original works of young Argentinian composer/pianist Exequiel Mantega and a special collaboration with flutist Paulina Fain.
Dr. Yarritu has served as Artistic Director of the Carmel Valley Library Family Music Concert Series and performs with harpist Elena Mashkovtseva as DUO ELENA. Invested in teaching, she currently serves as president of the San Diego North Chapter CAPMT (Ca. Assoc. of Professional Music Teachers) and her pupils are top prize winners in local, regional, and national competitions including the Music Teachers' Association of California, National Youth Orchestra, Helen B. Goodlin Scholarship, San Diego Musical Merit, San Diego Flute Guild, The National Flute Association High School Soloist Competition, Young Arts, and Spotlight, among others. In the Fall of 2021, she joined the music faculty at MiraCosta College in Oceanside.
---
Members of the California Chamber Orchestra
Violin I
Kathryn Hatmaker (Concertmaster)
Nicole Sauder
Jorge Soto
Tiffany Modell
Violin II
Missy Lukin (Principal)
Isaac Allen
Anne Delgado
Bram Goldstein
Viola
Annabelle Terbetski (Principal)
Rebecca Matayoshi
Greg Perrin
Cello
Chia-Ling Chien (Principal)
Margaret Tait
Elizabeth Brown
Bass
PJ Cinque (Principal)
Orchestra Personnel Manager and Music Librarian
Michael Molnau
Flute
Sarah Tuck (Principal)
Alexander Ishov
Oboe
Rodion Belousov (Principal)
Ellen Hindson
Clarinet
Max Opferchuk (Principal)
Peter Dayeh
Bassoon
Ryan Simmons (Principal)
Horn
Darby Hinshaw (Principal)
Tricia Skye
Trumpet
John Wilds (Principal)
Jon Hoehne
Trombone
Devin Burnworth
Timpani
Beverly Reese-Dorcy (Principal)
Andy Watkins
Harp
Elena Mashkovtseva
All musicians performing in this concert are members of
The American Federation of Musicians, Local 325
---
Program Notes
The earliest films, known as "silent films" were not actually silent. Theater audiences were entertained by live musicians on piano or organ to help set the mood, further the action, and be a part of the film's storytelling. These musicians were often improvising, or "making-up," the music. If you saw a silent film in two different theatres, the musical accompaniment would be different. Each organist and pianist had their own unique musical style.
When films moved into the "talkie" phase, around 1927, music was able to be included in the final product. "Talkie" films relied on actors delivering their lines, and the support of music specifically chosen for a scene. The birth of sound with films also produced a new job category called Film Composer.
Tonight's concert takes us on a journey into famous classical pieces and their connections to 20th century films.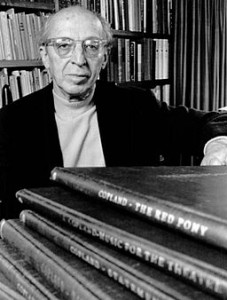 Aaron Copland (1900-1990) became one of those Film Composers. His parents were Lithuanian Jewish immigrants, and he grew up in a busy household with four siblings. His father was not musical, though his mother sang and played piano. The family lived in Brooklyn and owned a small grocery store.
Copland's first piano teacher was his older sister. At age 15 Copland attended a concert featuring famous pianist Ignacy Paderewski. Copland was so moved by this concert, he decided to study music and become a composer. Just six years later, at age 21, Copland became the first American compositional pupil of Nadia Boulanger. His planned one-year European study became three as he enjoyed the lively Paris life of the early 1920's.
Upon returning to America, the young composer's Symphony for Organ and Orchestra was premiered with the Boston and New York Symphonies. This major early success launched Copland's career as one of the most well-known 20th Century American composers.
Copland connected with Hollywood in the mid-1930's, not long after "Talkies" started in theaters. He intended for film composing to be a new way to expand his musical reach. His first film score, written in 1939, accompanied Of Mice and Men.
The arrival of the Great Depression changed Copland's view of American classical music and its role in society. According to The Copland You Know – And the Copland You Don't by Canadian musicologist Colin Eatock, Copland believed in creating a new American music sound that would appeal to a broad audience. "I see no reason," Copland wrote, "why composers any longer should write their music solely with the concert audience in mind. New listeners, such as radio provides, may not be cultivated listeners, but at least they have few of the prejudices of the typical concert-goer."
Musicologist Vivian Perlis felt Copland's Music for Movies suite demonstrated the composer's love of film music. She wrote, "the challenge of enhancing a film with music was of great interest to Copland. He enjoyed the idea of adding to the dramatic action by creating an atmosphere unique to each production. He drew music from three films to make up a five-movement suite for small orchestra: The City, Our Town, and Of Mice and Men. Each movement bears a title linking it with the action of the movie. The Suite is dedicated to Darius Milhaud, whom Copland considered a pioneer in the field of film music." Music for Movies premiered in New York on February 17, 1943.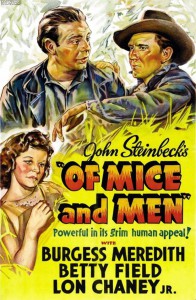 Wolfgang Amadeus Mozart (1756-1791) was commissioned to write the Concerto for Flute and Harp by French diplomat and military officer Duc de Guines. The duke was a flutist, and his daughter a harpist. As part of the contract, Mozart composed the concerto for the father-daughter duo and also tutored the duke's daughter in composition. Mozart wrote the piece in April of 1778.
Mozart lived long before films, but he was no stranger to another form of visual entertainment that relied on music to set the mood: Opera. Mozart wrote his first opera when he was 12 years old.
A general characteristic of Mozart's music, and certainly this concerto, is the musical dialogue between solo instruments and the orchestra. Mozart's concerto balances the brilliance of the flute with the heavenly sounds of the harp, creating different moods and colors through changes in dynamics, musical ranges, and modes.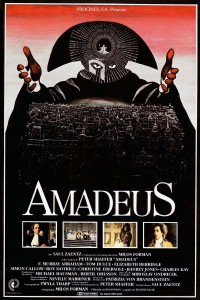 In the famous 1984 film Amadeus, the second movement of this concerto plays prominently in a scene with Mozart's wife, played by actress Elizabeth Berridge, and Antonio Salieri, played by F. Murray Abraham. In the scene, Constanze Mozart presents Salieri with a folio containing original musical scores by Mozart. Salieri is astonished as he looks at the handwritten pages, hearing the music in his head as he looks at the sheets. He remarks how there are "no mistakes or corrections" and it seems Mozart is writing down works already completed "in his head." Salieri experiences a powerful "a-ha!" moment while seeing and hearing Mozart's Concerto for Flute and Harp. Mozart's moving music makes the scene.
Music also makes the opening credits of the film Raging Bull (1980).  The scene juxtaposes soaring orchestral phrases with the visual of a boxer, in slow motion, alone in a boxing ring. The music comes from the opera Cavalleria Rusticana (Rustic Chivalry) written by Italian composer Pietro Mascagni (1863-1945). Before knowing anything more about the film, the music leads the viewer to understand that this character will experience a heroic, and likely tragic, journey.
Mascagni wrote the opera in 1890, and the Intermezzo is an instrumental interlude between scenes. Mascagni's opera premiered in Rome, Italy to great success. So much success, in fact, that Mascagni was never able to write an opera that was more popular. He lamented that he found such success so early, stating, "I was crowned before I was King."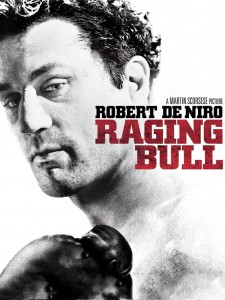 Darius Milhaud (1892-1974) was one of Les Six (The Six), a group of young French composers who wanted to revolutionize French music. Le Boeuf sur le toit (The Bull on the Roof) was inspired by the composer's two-year stay in Rio de Janeiro and is named after a popular Brazilian song. The piece is a rondo form of sorts, whereby Brazilian melodies, tangos, sambas, and other types of music are interjected between a recurring main theme.
Milhaud was fascinated by scoring for film and was considered one of the first true film composers. According to Masterworks of the Orchestral Repertoire: A Guide for Listeners by Donald Ferguson, Milhaud said he composed this piece as "fifteen minutes of music, rapid and gay, as a background to any Charlie Chaplin silent movie."
Milhaud's work premiered in another visual entertainment form, however, when the score was used as music for a ballet by Jean Cocteau in February, 1920.
— Dana Zimbric
---
Thank You to Our Sponsors and Donors
Society Sponsors
Judy Call
Prudhomme Associates, CPAs
City of Temecula
Leslie and Joseph Waters
Season Sponsors
Mark Margolin
Nicola Helm & Stephen Ryder
Education Sponsors
Craig Carper, LaPointe Wealth Management
Murrieta Rotary
Concert Sponsors
Susan & Ken Dickson
Walt Fidler
Conductor's Circle
John Stubbs
Concertmaster's Circle
Barry Weiss
Rudy Wokoek
Principal's Circle
Kiyoe MacDonald
John Welniak
Musician's Circle
Candace Flint
Susan Humphrey
Sarah Ivar
Martha Minkler
---
Join us at The Merc on the 2nd and 4th Sundays of each month for recitals by some of the region's best musicians. These intimate performances include opportunities to hear from the musicians about their art, their careers, and the music being performed.