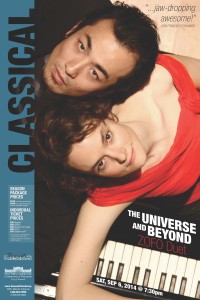 Details.

The Universe and Beyond
Date

Saturday, September 6, 2014

Time

7:30 PM

Address

Old Town Temecula Community Theater:
42051 Main Street
Temecula, CA 92590

Tel.

1-866-OLD-TOWN
(866-653-8696)

Categories

Tickets
ZOFO Duet


ZOFO is shorthand for 20-finger orchestra (ZO=20 and FO=finger orchestra). Eva-Maria Zimmermann and Keisuke Nakagoshi have electrified audiences from Carnegie Hall to Osaka Japan with their dazzling artistry for piano-four-hands.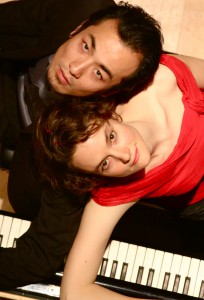 ZOFO will perform pieces from their most recent CD release, ZOFORBIT, along with selections from their first two albums, including Grammy-nominated MIND MELD and critically acclaimed MOSH PIT.  ZOFORBIT features Gustav Holst's The Planets; they will play several movements of the piece to commemorate its 2014 centennial.
Program
George Gershwin         Cuban Overture
Terry Riley                     Etude from the Old Country
Igor Stravinsky              Petrouchka
Urmas Sisask                The Milky Way
Gustav Holst                  Excerpts from The Planets