Details.

Latin American Sketches
Date

Saturday, November 1, 2014

Time

7:30 PM

Address

Old Town Temecula Community Theater:
42051 Main Street
Temecula, CA 92590

Tel.

1-866-OLD-TOWN
(866-653-8696)

Tickets
California Chamber Orchestra — Dana Zimbric Conductor

In Latin America, November 1 is El Día de los Muertos, the Day of the Dead. It's a time of both remembrance and celebration. Travel with us to Latin America in this concert that features a brand new work for mariachi ensemble and orchestra.
Jeff Nevin, is an award winning classical composer whose works have been performed by the San Diego Symphony, the La Jolla Symphony, the California EAR Unit, the Peninsula Symphony, Mariachi Sol de Mexico, the Sol de Mexico Symphony Orchestra, and many other ensembles. Also a skilled performer, he is the founder and Artistic Director of Mariachi Champaña Nevín, principal trumpet in the La Jolla Symphony, and a frequent substitute with the San Diego Symphony.
Mariachi Champaña Nevín is a virtuoso ensemble of uncompromising quality with a multicultural aesthetic unique in the world of music. Their performances, recordings, and workshops have thrilled and inspired mariachi and Classical-music enthusiasts alike.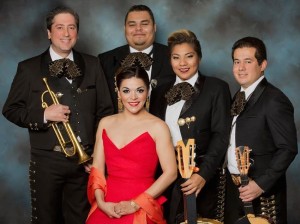 Al Aire Libre is a brand new work for chamber orchestra, mariachis, trumpet, and soprano. We're pleased to feature the composer in this performance.
This concert is made possible in part by a generous gift from
Paradise Chevrolet/Cadillac and Paradise Buick/GMC.
Program
Copland                      Three Latin American Sketches
Nevin                          Al Aire Libre — Canciones Para Entrar en Materia
(from poetry of Alberto Blanco)
(Mónica Ábrego, soprano; members of Mariachi Champaña Nevín;  Jeff Nevin, trumpet)
Revueltas                  Ocho por Radio
Ponce                         Intermezzo and Gavota