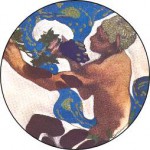 Connections
Inspiration takes many forms. In this concert, we'll be exploring music that has connections we might not recognize at first.
Among the most famous pieces for the solo flute, Debussy's Prelude to The Afternoon of a Faun is inspired by the poetry of Stéphane Mallarmé, whose work was an important pre-cursor of 20th-century movements in the arts such as Cubism and Dadaism.
It's quite likely that you've never heard Louise Farrenc's Symphony No. 2. The music is inspired by Mozart and Beethoven. We predict it's going to become one of your favorites.
Respighi's "The Birds" was written in 1928. But it takes its inspiration from music of the 17th and 18th centuries. You may think you don't know this piece, but you'll recognize parts of it that you've heard before.
 Program Highlights
California Chamber Orchestra — Dana Zimbric, Conductor

Prelude to "The Afternoon of a Faun" (10:00)            Claude Debussy (1862 – 1918)
Symphony No. 2 in D Major (34:00)                             Louise Farrenc  (1804 – 1875)
The Birds (19:00)                                                             Ottorino Respighi (1879 – 1936)