Details.

A Passion for Music
Date

Saturday, April 29, 2017

Time

7:30 p.m.

Address

Old Town Temecula Community Theater
42051 Main St
Temecula, CA


Tel.

1-866-OLD-TOWN
(866-653-8696)

Tickets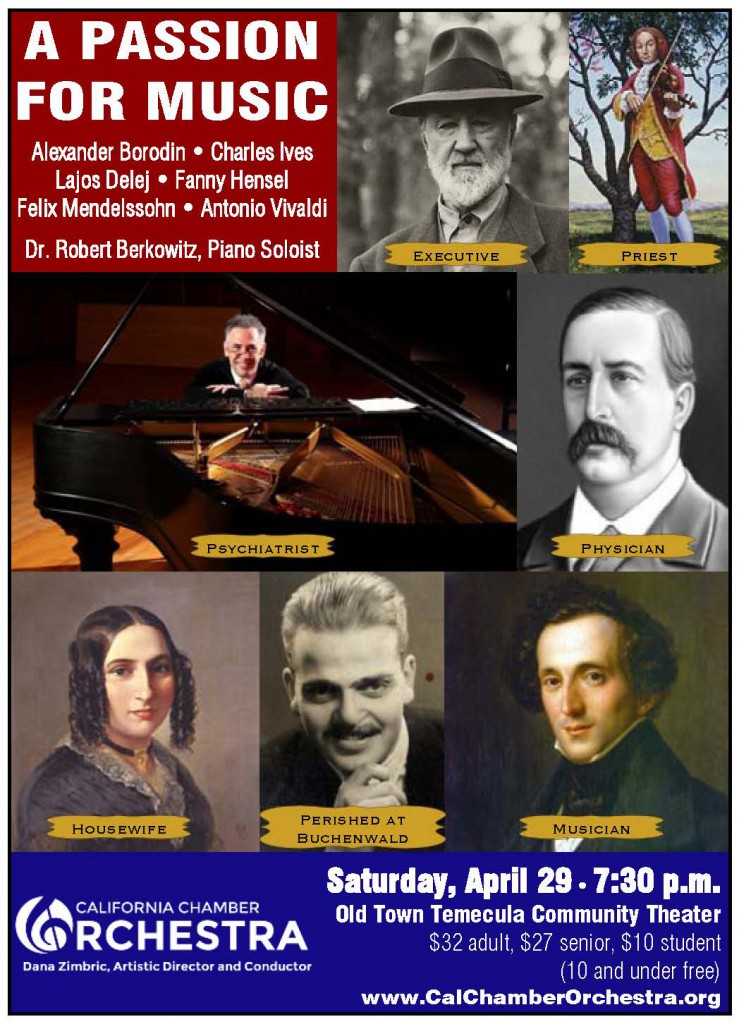 An insurance executive, a priest, a physician and chemist, a housewife, a prodigy. Each a renowned composer.
Add a psychiatrist internationally recognized as a pianist. And his mother's fiancé, a promising composer whose life was cut short by the Holocaust.
Our featured soloist is Dr. Robert Berkowitz, winner of the San Diego International Piano Competition for Outstanding Amateurs. Dr. Berkowitz will perform music of Mendelssohn and Hungarian Jewish composer Lajos Delej. The Boston Globe published this story on Dr. Berkowitz and his quest to uncover details of Delej's short life and his music.
Join us as we explore the passion that drives people to music.
This concert is made possible in part by a generous gift from Peg Moore.
Program
California Chamber Orchestra — Dana Zimbric, Conductor
Fanny Mendelssohn Hensel      String Quartet in E Flat Major (20:00)
Alexander Borodin                       Nocturne (8:30)
Charles Ives                                   The Unanswered Question (6:00)
Antonio Vivaldi                             Concerto for Two Flutes in C Major R533 (8:00)
Felix Mendelssohn                       Piano Concerto in A minor, MWV O 2 (Mvt. I: Allegro) (18:00)
Lajos Delej                                     Three Piano Miniatures (4:00)